It will not be an exaggeration to say Football, known as Soccer in the USA, is the most well-known form of sports in the world today. Where ever you go, in Africa or the USA, Asia or the Europe, you see a football fan wearing club jersey with a famous footballer name either of Barcelona, Manchester United, Arsenal, AC Milan, Juventus, Bayern Munich, Liverpool, etc.  These worldwide renowned football clubs have millions of supporters around the world. I am one of them. I love football. I have been following local football games in my locality since I was, I think, 10 years old or so. I used to go to football stadiums, big or small, since then. I used to watch late replays of famous matches through the TV screens in the early 90's. Even after I have grown up the love for the beautiful game, Football, made me to follow and watch important European league games like the English premier league, the Italian Seri A or the Spanish La Liga or the big prize Champions League games doing whatever it takes. I remember when I traveled to Italy for work in December, 2009 I have got the chance of watching a Champions League match between Juventus and Bayern Munich at Stadio Delle Alpi, in Turin and I paid more than 40 Euros, a  hardly earned money,  for the ticket. It was almost close to what I used to make monthly at that time working in the civil service. Was I naïve to pay that? No! I did it because I love the beautiful game, Football!
There is an advertisement which I frequently watch on TV. It is about three men [correct me if I am wrong] with a dressing of the Dila Lama starting their journey early in the day skipping their monastery and traveling long miles crossing all sorts of nature's challenges on foot. When they reached and entered a TV show room they found many gathering in front of a big TV screen, every one enthusiastically gazing at a televised football match, wearing England's Manchester United's club jersey. Amazed by what they saw they pull out their religious dress what you see on them is the same jersey the spectators in front of the TV screen wore, the Manchester United Jersey. As far as I understand the commercial its main message was how football has a universal appeal and how much love is there for the beautiful game, Football!
Since the last two or three decades satellite television distribution, cable news expansion and internet service coverage increase made it possible to watch or follow any football (Soccer) match LIVE where ever you are and whenever it is. A football fan in Australia can watch a Champions league match at 7 PM in Europe time where as it is early morning around 4 Am or 5 AM in Australia. A Chinese fan of English Premier League can watch a 1 PM lunch time early kick off in London but it is already 8 PM in his country. Why all stay late or get up from bed so early to watch a football game with all these prices? Because football has a universal appeal and it is so powerful and so beautiful for many to watch. It is reported that Manchester United Football Club alone has 333 million fans around the world. Researches show that other clubs also have millions of supporters and fans. A football match between Manchester United and Barcelona, who are amongst the most famous, highly supported and successful clubs in Europe and the World, would be watched by more than a billion people in a LIVE televised session. Why? It is because Football is the modern beautiful game!
Many football clubs have development projects in Africa or Asia or the Latin America and the Caribbean and it is helping the poor to get basic services like health facilities, clean water, education, etc. Beyond that Football has played to reconcile bitter political rivals in Côte d'Ivoire. Isn't it encouraging? And isn't it a marvelous thing by the beautiful game?  And even now Football increased its contribution for the social good. Sources are showing that top Football Teams are more than ever engaged in International Aid activities. This time with a campaign against Polio! The News by Eliza Villarino of Devex, an International development, business, careers and news site tell us the story about the three-year partnership between Football Club Barcelona and the Bill & Millinda Gates Foundation to draw attention to the promise of vaccines in ending polio with the slogan "More than a goal. End polio." Football continues its visibility in fight against adversities, poverty, poor health condition, etc. It is a huge potential and opportunity to promote your products or create awareness campaigns with this global brand of sport. Bill and Milinda Gates foundation has a good reputation in campaigns against diseases. "In the lead up to World Malaria Day 2010, United Against Malaria (UAM), a Bill & Melinda Gates Foundation supported partnership of football teams, celebrities, global health organizations, governments, corporations and public citizens, is harnessing the power of football to unite the malaria community across the globe" reports United Against Malaria.
You go on and read the very nice and interesting news article below. There is a friendly match between Manchester United and Barcelona football Club in Washington, D.C., and let me go and gaze at the TV. I love football, the beautiful game!
Sports for Social Good: Top Football Teams Engaged in International Aid Activities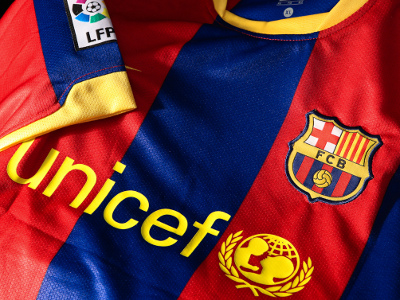 "More than a goal. End polio."
That slogan will soon appear in in-stadium advertisements of Fútbol Club Barcelona in line with its three-year partnership with the Bill & Melinda Gates Foundation to draw attention to the promise of vaccines in ending polio. FC Barcelona is also expected to engage its millions of Facebook and Twitter followers to encourage them to join the crusade against the disease.
"We have the chance to score a big win against polio, but we need loud and passionate voices to join the fight," Bill Gates said July 28, when he and his wife along with FC Barcelona President Sandro Rosell and Manager Josep Guardiola launched their joint campaign in Washington, D.C. "FC Barcelona's commitment to using sport for social good will help us rally support for vaccines and end polio once and for all."
FC Barcelona has been involved in many global aid activities, just like many of its peers in the sport. In fact, six of the world's 10 richest football clubs, including FC Barcelona, either have partnered with relief groups or initiated programs to help underprivileged people overseas. Here they are, and listed according to Forbes' ranking for 2011:
Many other notable sport teams are engaged in charitable activities. Often, these teams focus on areas closer to home; U.S. baseball and American football teams, for instance, tend to engage in their local communities. Many soccer teams in Europe, however, go beyond the region's borders, acknowledging the enormeous global reach of the sport and the fact that many of their professional players hail from developing countries especially in Africa and Latin America.